That LifeStyle Ninja – Kevin David 
One the internet's mastermind & fastest growing marketers is a Kevin David so WHY?
Lets say that you had a great start launching an Amazon product then capitalized on that then turned around & had great succes with Facebook ads along with Shopify.
Sound like a myth right, for most people but for Kevin, it came natural. 😎
So who is Kevin David exactly?
Just in case you have been living under a rock lately, he is a fast-growing widely successful entrepreneur who has a strong YouTube following & to give a real quick glance, here is a great video he made about haters.
After this breif intro for those who don't know Kevin, we are going to give you all the insights of what is inside of his most famous courses that have truned average every day people into millionaires.
At the bottom of this article is a free gift for everyone so for those that catch it, you'll love it.
Have you ever wondered how you can succeed as an entrepreneur, start your own business online, and not have to struggle?
Well, this isn't always easy.
What is always easy is that you can quickly start working your tail off and fail instead of succeeding, but there's one man that has decided to share his numerous trade secrets of success that brought him to a $2-million-dollar net worth status in just a matter of a couple of years.
His name is Kevin David, and he has helped hundreds of thousands of people successfully quit their jobs and start legitimate businesses online as well as help people with their side hustles.
Here, we're going to explain some amazing information about how Kevin David helped me, and how using the information in this guide, you can find your way to success as well using the information provided right here!
Let Me Give You A little History About How I Met Kevin David

Back in 2018, I had the pleasure of meeting Kevin David during the OMG live in 2018, but unlike most people, it wasn't actually at the event, but it was outside during a fun night of entertainment. I noticed a lot of people talking to him & I was hanging out with of few of my high-level SEO buds so we thought, who is that?
Actually having no idea who he was at the time. after a while, he and I started talking about marketing & I was shocked at how much we had in common.
That had to be a lucky time in my life because he decided to drop some of his deep trade secrets with me and expert advice.
After hitting it off almost immediately, I discussed my expertise working in automation and he started talking about chatbots, and how he used them to get his start.
By combining the wonderful features of ManyChat along with professional business strategies, ambition, and automation himself, he was able to build a networked empire that helps save literally hundreds of thousands of people make money using platforms.
Such as his dropshipping Shopify store, utilizing the Amazon FBA program, and most importantly social media like Facebook, Instagram, and even Twitter in order to become as successful as he is today. Yet rather than being like most people who become marketing giants, he decided to help others.
He created premium courses so fellow entrepreneurs just like you (if you're reading this, it can be well assumed that you are one and you're here because of it), and even myself succeed.
I received a ton of this knowledge from a guy I didn't even know, who treated me just like anybody else and was a really down to earth person.
It was that exact moment and conversation that inspired the reason you're here today – to use various business avenues and earn a killing making passive income using the same tools that I use in order to pass on the valuable lessons Kevin David shared with me.
Multiple Courses for Multiple Means

As mentioned before, Kevin David has amazing courses, and you can literally go onto his YouTube and watch a ton of video guide he's made on how to make your own profitable business on various platforms, as well as provide excellent business secrets to success that many others won't share.
We're going to explain some of these courses below in more detail, so you know where you can evolve once you find your niche, and become a part of the movement to freedom called THATLifeStyleNinja.
Kevin David Shopify Course

There are a ton of people trying to be successful at teaching you how to truly be a business moniker from Shopify, by teaching you how using the awesome dropshipping platform worked for them, and even providing some half-decent tips that may (or may not) help you succeed in your endeavors.
Kevin David, however, wanted to put a stop to people's failure, so he created his Shopify Ninja Master Class course.
The course has come a long way, and right now, the course has even decreased in price as David knows that people need the knowledge he can share and wants to give it to the fellow Ninjas out there who want to get their start in the industry.
In the past, you had to pay a one time fee, and now you can actually divide the course into 3 consecutive payments in order to get the entire course.
Even better, you can view numerous helpful tips on his YouTube that provide excellent information that is shared in his course, but you have to pay to get the premium content.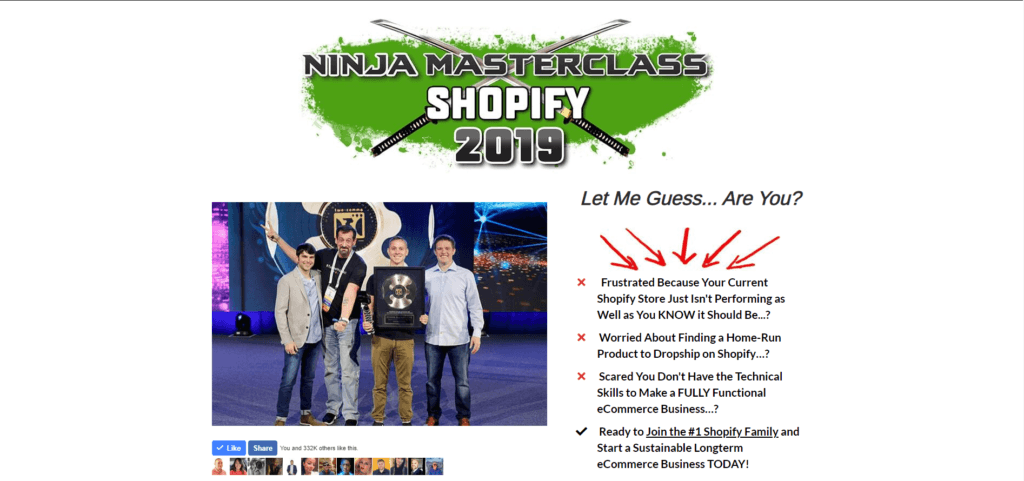 Upon buying the membership, you have five unique modules in which each one has a ton of videos. Some people were surprised that he was able to crunch so much information into the number of videos he has listed, so you're getting an absolute TON of content compared to many of the other courses out there.
In these five modules, you'll learn the following:
How to properly find profitable products to sell on Shopify with a dropshipping store
Dropshipping Suppliers information guide on how you can find the right supplier for you.
Using Shopify store to its fullest with Shopify Store Optimization
Exploding into the marketing scene by combining Marketing with your shopify store
Scaling your Shopify store for success, and how to expand it properly.
An excellent mini-course that provides you a ton of content
Bonus member's only features like clickfunnel training, amazon merchandise tips, and other short videos that are only for the true Ninjas out there.
You'll get a humongous guide to finding a new niche for you, discover new trends, lessons on how to create a business that specializes in made to order, and print on Amazon demand business, a free DoneForYou funnel download, and a long video about how to blow up your sales tenfold by utilizing Clickfunnels.
All of these lessons are much better than the average Shopify course that you'll find anywhere else, and the topics that are covered in discreet detail provide the best possible ways to customize and tailor your business to meet your needs and improve your success.
Get Free Shopify Training Here
Amazon FBA Course

Kevin's Amazon FBA Ninja Course is very much like his other courses, showcasing his amazing skills as a marketer, and teaching you valuable information based on numerous standpoints that can help you in any level of your Amazon business creation.
This is a larger course than the Shopify store course and has 8 modules that can help to maximize your success and increase your profit margin, revenue, and your return on investment. Not only will you learn his secret to success, but you'll learn how to tailor your marketing venue to your own business needs and desires by teaching you the following: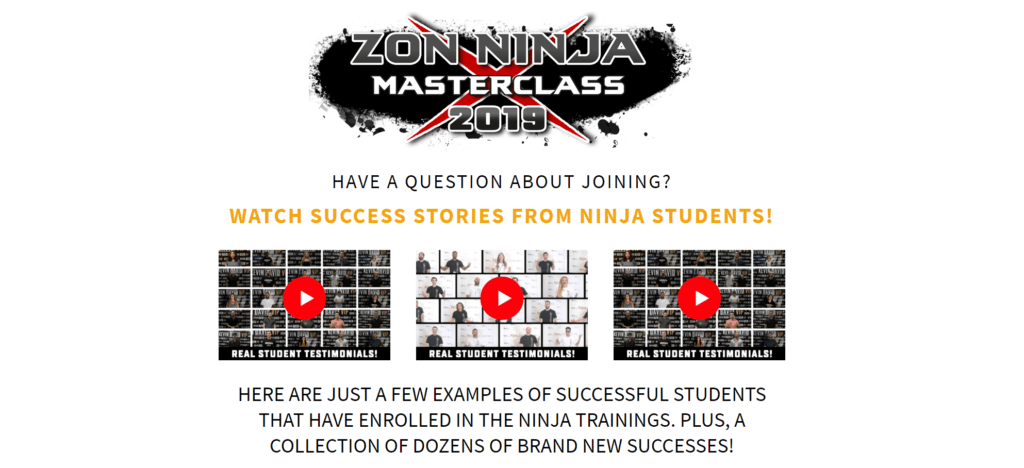 Laying out the right foundation to get proper business licensing and how to choose the right products from the beginning.
How to research product codes, select a supplier, and order your very first shipment.
Getting your brand registered, how to set your price properly and format your item listing to target more buyers.
How to launch your product with giveaways, discounts, and use AMS to your advantage.